Aqua Dream 135 Gallon Tempered Glass Aquarium Black
Customer Reviews
100
reviewers would recommend this product
Write a Review
Ask a Question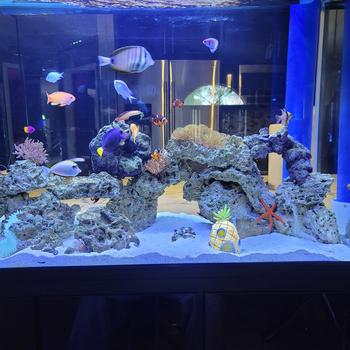 08/06/2022
I recommend this product
I have the 135 gal. And it's beautiful
Great team.
That's a fantastic-looking aquascape you've got going there! We're glad that the tank has been working well for you!
07/09/2021
135 gallon tank
Quality and ease of use are the 2 most important things to me. Best tank I've ever owned the filtration setup keeps my tank like ice, crystal clear at all times I'm currently using 5 different pads, ceramic rings, bio balls, bio blocks, 5 lbs of carbon and k1 rotating media, If your in the market for a nice aquarium look no further this is the show stopper. Buy with confidence received mine within 7 days of purchase
corey b.

United States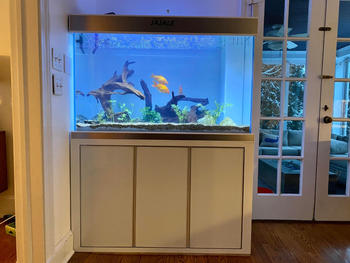 02/11/2021
The tank is great: beautiful and excellent water management. Missing: clear instructions on how to set it up.
The tank is gorgeous, and the pump / filtration systems are well thought out and robustly made. However, I found it difficult to set up - more difficult than it needs to be. You're basically on your own: the video that is linked on the website is for a smaller tank with a different water return, and the single instruction sheet that comes with the tank is just a diagram with text that is almost unintelligible. Connecting the return is not trivial, as it doesn't fit unless you move a rubber sleeve further up a pipe and then connect things in a precise order. I didn't do it quite right the first time and had water leaking from the bottom of the tank. Also, don't underestimate the weight of the tank! Lifting it onto the cabinet took three strong people, so be prepared when it arrives. With all that said, I absolutely love it now that it's set up!
Pieter v.

United States
Hey Pieter - we're working on better video documentation and instructions for our tanks. We apologize for that inconvenience. If you end up with any questions please do not hesitate to call us or email me directly at marketing@tigermountainindustrial.com
11/03/2020
Good looking fish tank
This is a great looking tank I just put my African Cichlids in, the seem to be very happy in there new home. The Aquadreams team was very helpful especially Daniel he helped us from purchase do delivery and answered all of our questions very helpful thank you Daniel. We love our tank
Misiri P.

United States
Thanks for the feedback! We're glad you had a good experience with us! We also love how your tank is set-up! Those Cichlids are beautiful as well!
10/04/2020
Well packaged, slightly heavier than expected.
The tank and stand look great. It came well packaged.
Richard D.

United States
Thanks for all the honest feedback Richard! Due to the high-quality materials, we're going to package it above standards to ensure it gets delivered nicely and un-damaged.